The second online  course on SCORE's Online Learning platform is now live!
Called Ecosystem-Based Approaches (EBA): Introduction to implementation, this comprehensive course will give students a deeper understanding of different considerations relevant to EBA implementation. Among these, the students will have an overview of the utilisation of living labs, co-creation and co-design of solutions, risk management, engagement in citizen science and beyond.
Based on detailed explanation of theory and highlighted real-world experiences from the SCORE project, this 2nd Online Course provides an excellent source of materials to understand better how climate adaptation is possible. Whether you're a policymaker considering the role of EBAs in your locality, a curious student interested in levelling up your knowledge, or an engaged citizen wanting to get involved in citizen science, these courses are made to be followed by everybody!
Enroll in the SCORE MOOC through this link: Ecosystem-Based Approaches: Introduction to Implementation.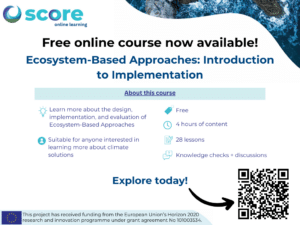 This second course is part of the SCORE Massive Open Online Course (MOOC).